Late Season Iowa Success
January 04, 2014 by Chris Muller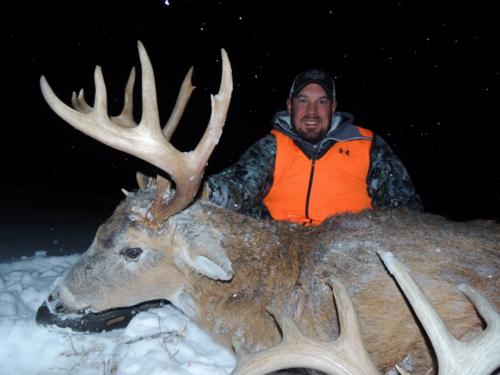 January 1st, 2014 was the beginning of a new year and also a great day to be in Iowa with a tag in hand. With snow coming down and the temperatures hovering around 0 degrees, the deer were on their feet and piling into the standing soybeans. After multiple groups of deer entered and left the field, totaling around 70, the magical last 20 minutes of daylight was upon me. Like a ghost in the snow this mature buck appears at 70 yards. I slide out of my Heater Body Suit and get behind my CVA Accura V2 muzzleloader. After the smoke cleared this beautiful mature buck was laying in the snow. We guess this buck to be a 5.5 year old.
Good friend and client John was able to take this great buck on the first evening of the hunt. Great character
If you are looking to experience the excitement and success of late season hunting in Iowa, contact O.A.S. soon. This is a hunt everyone should experience.
Get Connected

Blog Categories