Whitetail Deer Kansas
Kansas is the land of no little trees but big bucks. This outfitter leases over 15,000 acres of prime Whitetail habitat in central Kansas that boarder large wildlife refuges. The properties are not only large but offer some of the best whitetail habitat I have ever seen. Even with the right nutrition and genetics, the outfitter uses a 130" antler restriction to ensure the bucks have the age to produce large antlers. Our outfitter offers a nice comfortable lodge and limits the number of hunters per week. The camp includes at least one cook, all the accommodations of home, and is a great place to relax after a long day on stand.
The Kansas properties have very limited pressure and can be hunted during the archery pre-rut, rut, and throughout the prime-rut firearms season. The early muzzleloader season in September is also a productive time of year to hunt big Midwest Whitetails. The firearms season can produce some great whitetails as many stands allow for a great view of large CRP or crop fields. Archery, Muzzleloader, and Rifle hunts are 5 days including meals, lodging and guide.
If you have always wanted to hunt Kansas….this is the place and the outfitter!!
---
Kansas Whitetail Deer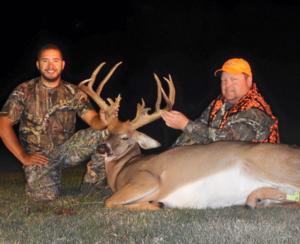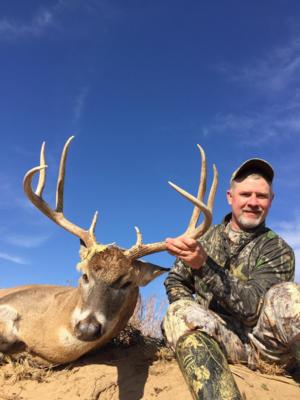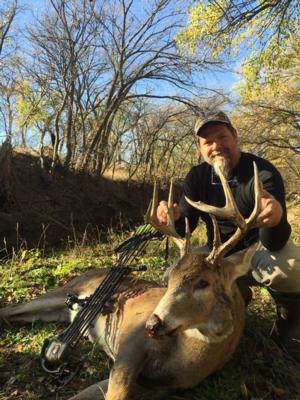 ---
Field Notes
Outdoor Adventure Specialists field notes, booking information, articles and past hunters.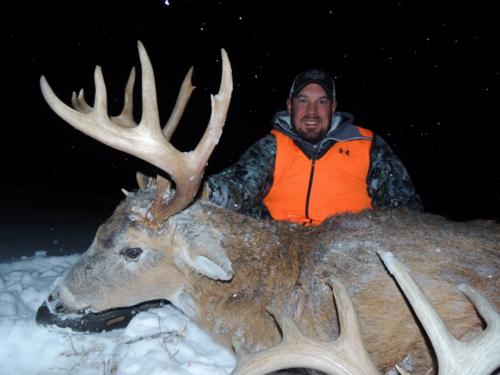 Late Season Iowa Success
January 1st, 2014 was the beginning of a new year and also a great day to be in Iowa with a tag in hand. With snow coming down and the temperatures hovering around 0 degrees, the deer were on their feet and piling into the standing soybeans. Read more...
---
Testimonials
My Husband and I booked our honeymoon adventure through OAS two years ago. I knew that I was marrying a man who loved to hunt and he knew I wanted an unforgettable experience. We were not the easiest clients to work with; we wanted the hunt of a lifetime. A few things OAS was able to do for us: My husband wanted a great hunt, good food, and to stay within a budget. I asked for a lodge with pet-friendly accommodations, I wanted to hunt with my husband in a stand (not in a ground blind), and I wanted to use my bow. OAS was able to find a hunt that encompassed all of the things we wanted: a great lodge with 3 amazing meals provided every day, a company who accepted our small pets, and a guide willing to accommodate such a 'needy girl'. I had the time of my life on this hunt! The week of our hunt I got the first kill and ended up with the largest bear of the week. I cannot image a more amazing experience to share than going to Canada and bringing home two Black Bears. Most couples bring home a few souvenirs and pictures from their honeymoon, we have two beautiful trophies mounted in our cabin that remind of us the amazing experience every day. Our hunt was great, our guides were the best, and all our travels were eased with the guidance we received from OAS. I can truly say that working with OAS has been our pleasure and we would recommend working with Chris to everyone!
- Saren & Derek of Dexter, Missouri
---
Request Information
Outdoor Adventure Specialists is a full service booking agency which prides itself on honesty, integrity, and proficiency. Let Outdoor Adventure Specialists take the uncertainty out of your next Whitetail Deer Kansas adventure.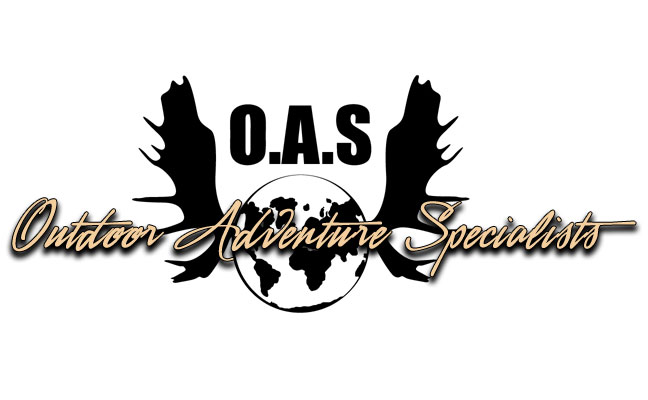 Outdoor Adventure Specialists
715 Riverside Ct
Harrisburg, PA 17112
Owner: Chris Muller
Phone: (215) 290-2099
Email: cmuller@oashunts.com