Whitetail Deer Kansas
Kansas is the land of no little trees but big bucks. This outfitter leases over 15,000 acres of prime Whitetail habitat in central Kansas that boarder large wildlife refuges. The properties are not only large but offer some of the best whitetail habitat I have ever seen. Even with the right nutrition and genetics, the outfitter uses a 130" antler restriction to ensure the bucks have the age to produce large antlers. Our outfitter offers a nice comfortable lodge and limits the number of hunters per week. The camp includes at least one cook, all the accommodations of home, and is a great place to relax after a long day on stand.
The Kansas properties have very limited pressure and can be hunted during the archery pre-rut, rut, and throughout the prime-rut firearms season. The early muzzleloader season in September is also a productive time of year to hunt big Midwest Whitetails. The firearms season can produce some great whitetails as many stands allow for a great view of large CRP or crop fields. Archery, Muzzleloader, and Rifle hunts are 5 days including meals, lodging and guide.
If you have always wanted to hunt Kansas….this is the place and the outfitter!!
---
Kansas Whitetail Deer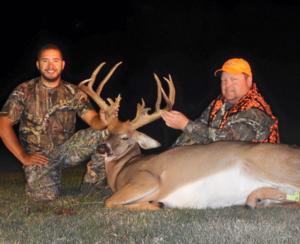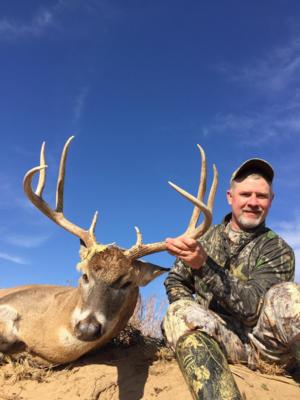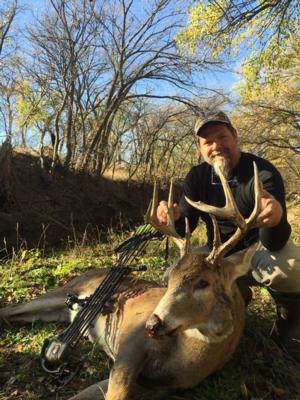 ---
Field Notes
Outdoor Adventure Specialists field notes, booking information, articles and past hunters.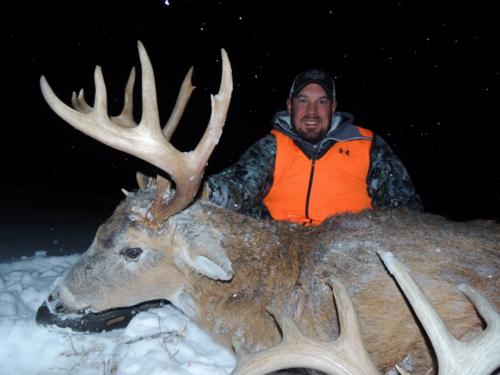 Late Season Iowa Success
January 1st, 2014 was the beginning of a new year and also a great day to be in Iowa with a tag in hand. With snow coming down and the temperatures hovering around 0 degrees, the deer were on their feet and piling into the standing soybeans. Read more...
---
Testimonials
"I was seeking a South Texas whitetail hunt that had quality bucks and could accommodate a paraplegic. Chris was quite thorough on my special needs and found an excellent whitetail destination that fulfilled everything I could want and need for this adventure. I was fortunate enough to take my largest rifle buck and enjoyed a comfortable and accessible stay at the lodge. Everything was perfect. I'm looking forward to booking more hunts through OAS so I can go after the best trophy animal and still have accommodations that suit my special needs."
- Paul of Candor, New York
---
Request Information
Outdoor Adventure Specialists is a full service booking agency which prides itself on honesty, integrity, and proficiency. Let Outdoor Adventure Specialists take the uncertainty out of your next Whitetail Deer Kansas adventure.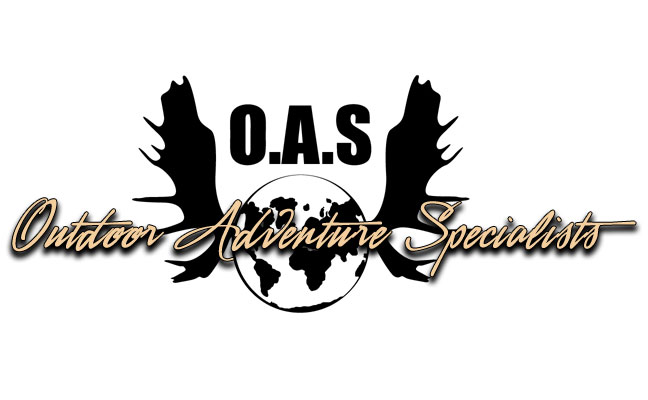 Outdoor Adventure Specialists
715 Riverside Ct
Harrisburg, PA 17112
Owner: Chris Muller
Phone: (215) 290-2099
Email: cmuller@oashunts.com